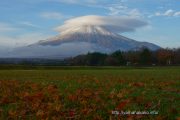 We saw to the mountaintop at about 6:00, but it began to take cloud from before 7:00, and Mt.Fuji which put on Kasagumo which was excellent at past 7:00 was seen. When Kasagumo is seen, weather is said to be downhill slope, but, by the way, how will about today.
The highest temperature was higher three times than 14.5 degrees and the day before yesterday, and, as for the temperature, as for today's minimum temperature, it was at 4.4 degrees yesterday at relatively warm morning even if it was warm in the daytime, and it was at night without falling down too much. Although there is not sunlight, it seems to become high temperature in the daytime.
Diamond Fuji was seen yesterday, but does not seem to be seen as there are many clouds today.
The situation of 10:00 a.m.
Temperature: 12 degrees
Weather: Cloudy weather