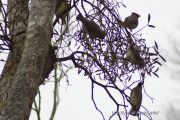 As it was clouded and could not see Mt.Fuji, we searched whether Japanese waxwing was not, and around 20 groups were, and they took today as part ate fruit of mistletoe. We were waiting for a while whether you went down to drink water, but have performed again toward the mountain.
The yesterday's highest temperature exceeded 11.0 degrees and 10 degrees since January 18, and it was on neighbor, considerably warm 1st. Minimum temperature this morning became below the freezing point with -4.4 degrees, but was not serious when we compared with cooling until the day before yesterday.
Is clouded after a long absence from morning, but cloud is not so thick today; snow it does not seem to rain.
Winter big event, ice candle Festival are held in Yamanakako communication Plaza Kirara on 17th tomorrow. As Diamond Fuji is just seen from the neighborhood and is holding Yamanakako Mt.Fuji Snow Festival, come by all means.
The situation of 10:00 a.m.
Temperature: 1.1 degrees
Weather: Cloudy weather
Traffic condition: There is not freeze on Yamanakako go-around road, but there is still freeze point on thin street